Customer service can make or break any product. That's why we're always working on ways to optimize our customer service operations. A recent case study shows how we used our call center to improve reviews for our TRICARE Supplement health insurance, an effort that helped boost revenue for this product.
The Problem with Reviews
The more upset people are, the more vocal they get. It's human nature, but it also means that customers are more likely to write reviews when they're angry.
These bad reviews are bad news when it comes to ranking on Google and reaching out to new customers. Although Google doesn't disclose exactly how much it penalizes companies for bad reviews, it's widely recognized by search engine experts such as Moz.com that business reviews are important ranking factors in Google's SERP algorithm.
This was a problem for our TRICARE Supplement product. In 2017, 32.1 percent of all TRICARE Supplement leads came from search engine result page (SERP) content. Unfortunately, as of January 1, 2018, our Google rating was zero out of five stars. Almost every review was from a dissatisfied customer who wanted to vent. We knew we had happy customers – they just weren't leaving reviews.

The Solution
The good news is that there is a solution. The key is not to suppress the bad reviews. Instead, companies need to encourage reviews from all customers, resulting in ratings that are both more realistic and more positive.
This is exactly what we did at SelmanCo, and the results were fantastic.
The marketing team crafted an HTML email template that focused on asking the customer to review the performance of his or her customer service representative (CSR)—not the entire company. We decided against a traditional Net Promoter Score because insurance administration can involve multiple parties, and the idea of "recommending us to a friend" might be confusing or irrelevant to customers. Instead, "Rate Your Rep" made the review process personal, simple, timely and specific. CSRs were each given a personalized HTML email template they could send directly from Outlook to the person with whom they had just spoken. The call to action in the email included a large button that was scripted to launch the entry form for a Google review.
To encourage CSRs to remember to send requests for review, we launched an incentive contest to reward participation and good reviews. Each review, whether negative or positive, receives a response from our social media coordinator or from a CSR.
The review emails began to be deployed over the last two weeks of January 2018 and are still in use.

The Analysis
We examined two time periods for comparison purposes:
The last quarter of 2017, October 1 to December 31
The first quarter of 2018, January 1 to March 31
No other aspects of our online lead generation program that affect organic and paid search were significantly retooled during the comparison period, although it should be noted that we did launch an update to the overall Selmanco.com corporate website in the last week of December. However, most factors that could influence the difference between quarters remained constant between the two time periods, including advertising budget, URLs, keyword optimization, page content and metadata.
The data examined includes Google searchers who did either of the following:
Clicked SERP results and then called our sales line via a tracking phone number: organic phone calls and paid phone calls
Clicked SERP results and filled out a submission form on one of our landing pages: organic form submissions and paid form submissions
This data does not include other lead sources that aren't affected by Google SERPs, such as purchased leads, social media or other non-search lead generation, such as direct traffic to our site or referring traffic to our site. The lead data does include Bing organic and paid leads, as it is unknown how Google reviews influence Bing's SERPs.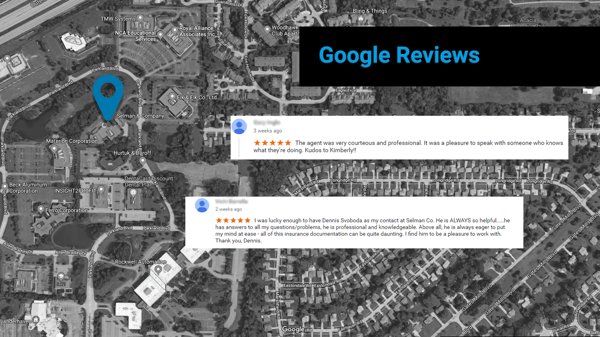 The Results
Since January 2018, our star rating increased from 0 stars to 4 stars, with 121 total reviews.
We also saw an increase is CSR participation, up from one supervisor to seven CSRs. Many CSRs report satisfaction with seeing tangible, positive feedback, although they are encouraged to participate in drafting responses for both positive and negative reviews. After examining negative reviews, product and process improvements and coaching have been implemented.
When we focused a single channel email campaign on improving our business star rating, we saw an incredible improvement in organic and paid search traffic, lead generation and lead conversion. While it would be impossible to prove causality, we can deduce that fixing reviews significantly impacted our lead generation outcomes. During the comparison periods:
We increased our total conversion rate from 5.266 percent to 8.383 percent for paid and organic traffic.
Of that, we significantly improved the conversion rate for traffic generated by organic search, from .59 percent to 1.68 percent.
We saw an overall increase of 141 percent in net organic and paid search leads, from 362 to 873.
Using average revenue per policy at a 30 percent conversion rate from lead to sale, we can calculate the amount of additional revenue generated by improved organic and paid lead generation.
The incremental marketing cost of the program was $0. Only labor and our existing marketing automation platform were employed.
Let Our Service Fix Your Customer Pain Points
Who's answering the phone for your group insurance product? Are they capitalizing on every opportunity to delight your insureds? Even in 2018, when technology is a part of every aspect of insurance administration, a human connection still matters, and not all call centers are the same. That's why this type of project should be of interest for existing and potential Affinity and Outsourcing clients who are seeking help with their insurance administration. Imagine what SelmanCo can do for your company with every customer interaction...one call, one email at a time.
Contact us to discuss how our call center operations can be customized for your needs.