Important changes are ahead for TRICARE, the government's health insurance program for military members and their families. Effective 10/1/2017, the Defense Health Agency (DHA) will be extending the TRICARE 2017 plan year to 1/1/2018. As of 1/1/2018, the new plan year for TRICARE will be on a calendar year, from January 1st to December 31st. All plans will be extended and deductibles will not re-set until January 1st. We think most employees who participate in the TRICARE Supplement Plan will welcome this one-time change.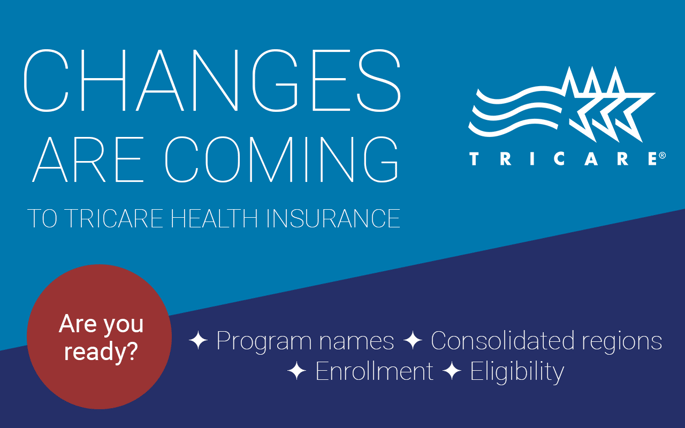 TRICARE Programs
Primarily, all TRICARE programs will be stay the same moving into the 2018. However, one important change to note is that the two TRICARE plans, "Standard" and "Extra," will be consolidated to TRICARE "Select" and TRICARE "Select Overseas" effective 1/1/2018.
TRICARE Stateside Regions will be consolidating from three TRICARE regions (North, South, and West) down to two regions effective 1/1/2018. The North and South regions will be combined to form TRICARE East, and TRICARE West will remain unchanged. Some TRICARE Prime providers may be different or unavailable due to the change in regional contractors.
TRICARE Enrollment
All individuals currently enrolled in a TRICARE program will be automatically enrolled in the same program as of 0/1/2018. (TRICARE Standard/Extra individuals will be enrolled in the TRICARE Select program). Plan changes are currently "at-will" throughout the TRICARE plan year. But, beginning 1/1/2019, plan changes will only be allowed when a qualifying life event occurs.
If you are newly insured through TRICARE in 2018, you must enroll in a plan on or before your first episode of care, or you will incur all costs for care. Effective 1/1/2019, ALL individuals must enroll in a TRICARE plan during the open enrollment period of 11/2/2018 – 12/10/2018.

TRICARE Eligibility
Effective 1/1/2018, qualified recipients of TRICARE coverage will fall into one of two categories that are based on when you or your spouse (your sponsor) entered active duty. Each group will have different enrollment fees and out-of-pocket costs. If you or your sponsor's initial enlistment or appointment occurred before January 1, 2018, you will be in Group A. If you or your sponsor's initial enlistment or appointment occurred after January 1, 2018, you will be in Group B.
Learn more about what is happening with TRICARE at www.TRICARE.mil.
TRICARE Supplement
A supplement is a type of optional insurance you can buy that wraps around your TRICARE or CHAMPVA health insurance. A TRICARE or CHAMPVA Supplement plan helps military retirees and their families cover out-of-pocket costs. Thousands of military families use these policies to help with reimbursements.
The changes coming to TRICARE mean that Supplement Plan deductibles will also extend to match the TRICARE Plan changes. All other aspects of the supplement plans remain unchanged. CHAMPVA and CHAMPVA supplement plans are unaffected.
To find a supplement that works for you and your family, click this button to get a plan. Or, call 855-637-1961 to speak with a customer service representative.
If you're an employer who wants to know more about how these changes affect your employees with TRICARE, watch the webinar.