Being an active organization in the Cleveland community is an important value of Selman & Company. Therefore, we encourage our team members to participate in a wide range of volunteer efforts to help our community throughout the year.
Our team members have appreciated the opportunity. "Volunteer day is an excellent way to gain fulfillment by helping others and an even better team building and bonding experience," says Shalonda Clark, billing specialist.
Helping Animals
At the Northeast Ohio SPCA No-Kill Pet Shelter and Clinic, our employees showered animals with the affection they so richly deserved. Of course, working with animals isn't just about cuddling. Our employees also cleaned cages and walked dogs.
"I loved being able to help support a local shelter," said Gina Vanadia, Recruiter. "Spending time with the dogs was the highlight of the day. I loved every minute of walking them!"
Brian Slivka, fulfillment specialist, also had a very positive experience. "I met a dog named Tim and he changed my life. Now, I want to help all abandoned animals that are victims of hurricanes and natural disasters," he says.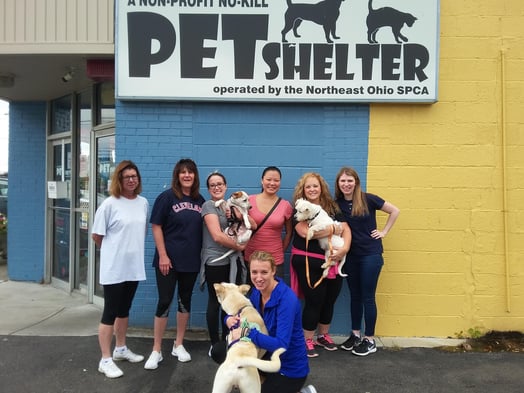 Getting Food Where It's Needed
According to the United States Department of Agriculture, 41.2 million people in the United States lived in food-insecure households in 2016, meaning that they struggled to get enough food. At the same time, 30 to 40 percent of the United States food supply is wasted.
Our employees volunteered at several local organizations to help food go where it is needed.
At a local food bank, we sorted and repacked nonperishable food to be distributed to local food pantries, soup kitchens and shelters.
A Home-cooked Meal Away from Home
Ronald McDonald House of Cleveland is a nonprofit organization that supports families whose children receive treatment at area medical centers by providing living accommodations and essential support services.
At Ronald McDonald House, we purchased and cooked brunch for the guest families. "We've all had moments in our lives when we needed the help of friends and neighbors," said Elizabeth Boettcher, VP of Contact Center. "It's truly an incredible experience to support and care for families so that they can focus 100% on their loved ones going through medical treatment."
Helping Kids Read
Many low-income families lack children's books. Kids' Book Bank works hard to get books into the hands of kids, providing them with new opportunities and setting them on the path to academic success. Our employees volunteered at Kids' Book Bank to sort and pack books to be distributed to children throughout Northeast Ohio.
In September, we will be holding a book drive to collect more children's books for the Kids' Book Bank.
Supporting Veterans
At the Veterans Resource Center with Volunteers of America, our employees helped maintain the facilities where veterans in need stay, by performing gardening and housekeeping tasks.
We also created veteran care packages. Throughout August, we held a veteran care package drive to collect toiletries, which were then put into kits and delivered to Volunteers of America.
Thanks to both toiletry and monetary donations from employees, we were able to create about 45 kits for men, 30 for women and 20 that were gender neutral. These kits included toothpaste, toothbrushes, soap, razors and other essential items. We were left with a surplus of toothpaste and soap, and these items were also donated.
"It was so wonderful to see the overwhelming amount of donations we received for the Veteran Kits," says Melanie Slivka, file feed specialist. "All of us at Selman wish our Veterans the very best and are honored to assist with any of their needs. We hope these kits give them some encouragement and confidence as they reacclimate to post service life. We are so thankful for our Veterans and for their service. Completing this project was an absolute pleasure."
A Culture of Giving Back
As Selman & Company grows, we strive to maintain our culture of giving back. Doing so enriches not only the lives of those we help, but also our own lives.
"Giving back to the community always warms my heart!" says Brittany Delp, customer service supervisor. "Making a difference is an important part of our culture here at Selman & Company and we look forward to lending a helping hand outside of the office!"
To learn more about how to join this amazing team, please click the button below.