Over the past few months, our team has been working to deliver an enhanced online portal to improve user experience. We're pleased to announce that the revamped site is now live and ready for you to use! If you do not have an account, we encourage you to sign up and take advantage of the secure online portal to get 24/7 access to all your account information.
New upgrades include the following: a chat feature to allow for quick and easy communication, compatibility with all mobile devices, and a NEW page for supplemental health insurance customers that includes deductible and claims information.
You will find an outline of these significant improvements to the eService site below.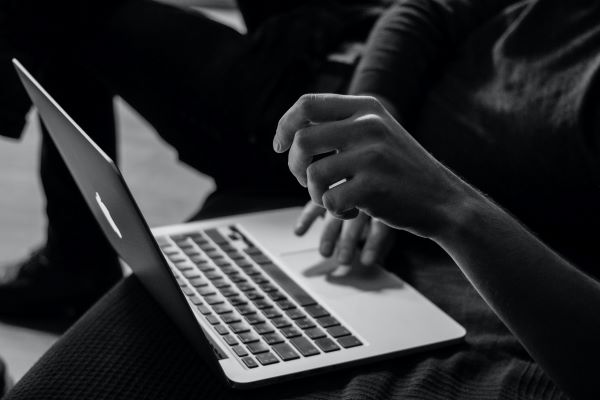 1. Live Chat - Several pages on the eService site feature a blue chat icon on the bottom right-hand corner of the screen. If you click on the chat icon, you'll be prompted to enter your name, email, phone number, insured ID number, and a brief summary of the question you'd like to have answered. After submitting this information, you'll be connected within seconds to a live customer service representative that will help resolve your issue quickly. Please keep in mind that live chat is only available during SelmanCo's hours of operation, which are Monday through Friday from 8 AM to 7 PM ET.
2. Mobile Usability - Our eService site has been optimized for mobile devices, so you'll be able to access policy information, make payments, and edit your online account information whenever you want regardless of where you are. Additionally, your information is secure wherever you browse our site as it uses a TLS certificate to encrypt web traffic and keep your data safe.
3. Improved Site Layout - A variety of tabs at the top of the eService site clearly outline where to find important information regarding your policy.
The

Policy Snapshot

tab gives you a brief summary of important policy information while the

My Policy

tab includes all information relevant to your policy, such as billing information, payment history details, and who is covered under your policy. You can see a screenshot of the My Policy page below.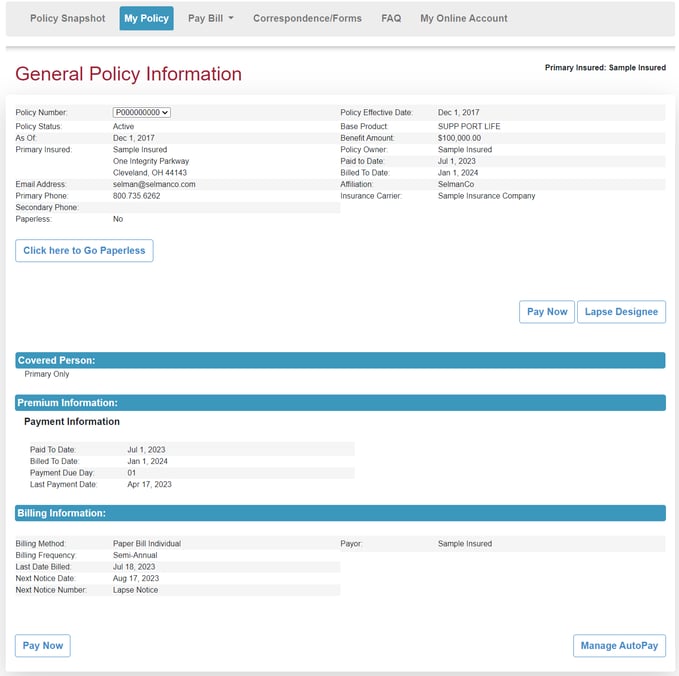 The

Pay Bill

tab allows you to make a one-time scheduled premium payment for your policy and manage details for automatic payments.
The

Correspondence/Forms

tab includes a list of policy correspondence, which is all the documents you've received over the course of your policy being active. This includes ID cards, renewal notices, and privacy notices. The Correspondence/Forms tab also contains a list of policy forms, which are forms you can complete to change information associated with your policy like a beneficiary change form. If you select the "Go Paperless" option, you will receive an email notification when a new notification posts to this tab. This includes your billing notice. This will eliminate the wait time caused by sending via US Mail.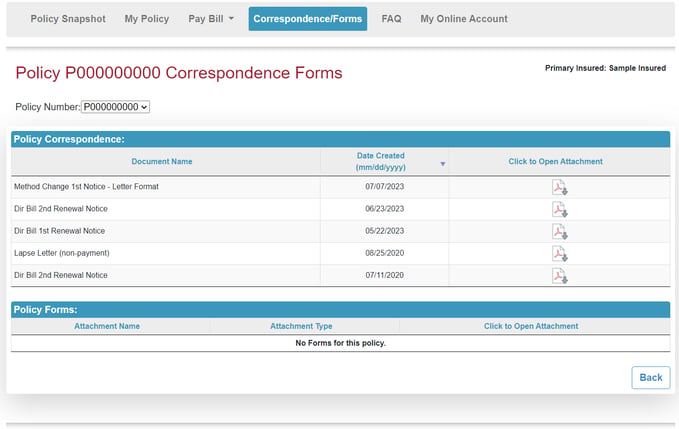 The

FAQ

tab features a list of commonly asked questions and their answers spread across three topics: beneficiary information, premium payments, and claims.
The

My Online Account

tab allows you to change the user name, password, and email address you use to log into the eService site.

Claims/deductibles page added for supplemental health insurance customers

- If you are a TRICARE/CHAMPVA Supplemental Insurance Plan customer, you now have access to an additional tab on our eService site called

Claims/Deductibles

. This tab gives you insight into how much you've paid into your deductible and allows you to search your medical claims by date of service, claimant, and more.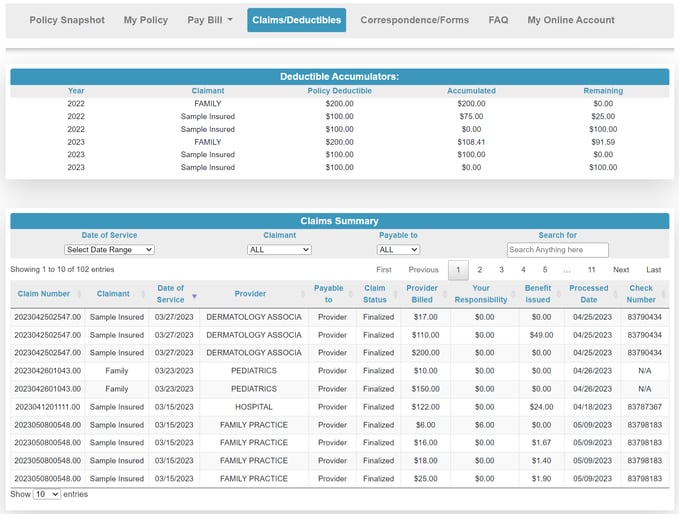 You can visit our eService site by clicking the button below. If you do not have an account for our eService site, you can create one by following the instructions here.