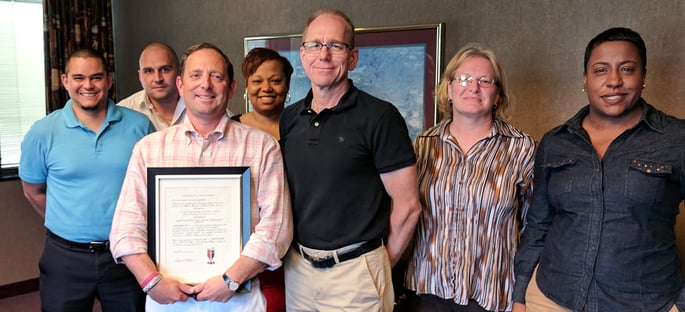 FOR IMMEDIATE RELEASE: (06/27/2017)
Selman & Company Achieves Certified Military Talent Employer Status Through NEOVETS Veterans Service Organization
Designation Demonstrates Corporate Support for Military Families in Northeast Ohio
Cleveland, Ohio: On June 27, 2017, Selman & Company received its Certified Military Talent Employer (CMTE) designation from NEOVETS, Inc., a veterans support organization that assists returning service members with employment, education, and healthcare needs. This certification highlights the company's commitment to hiring and retaining veterans in its workforce. David L. Selman, CEO, was presented with the award today at the Cleveland offices of Selman & Company.
The CMTE certification is conferred upon a hiring organization after it meets specific standards, including:
Complete formal training for HR professionals to gain proficiency in understanding veterans' challenges and assets
Actively recruit veterans and support employment referrals
Establish or maintain an employee veterans resource group
Share aggregate data concerning their veteran populations
"We prize the professionalism, technical abilities, and intangible leadership skills of the veterans we employ. They bring a tenacity and work ethic that really pushes us forward," said Selman. He continued, "Vets have been a critical success factor for our military medical business unit." Selman & Company is the largest broker, marketer, and administrator of a TRICARE Supplement Insurance product, which helps reduce out-of-pocket costs for active and retired military personnel and their families.
About Selman & Company
Selman & Company is a trusted insurance administrator that specializes in reducing cost and increasing efficiency for associations, credit unions, banks, employers, and insurance companies. Managing over $300 million in premium under administration, we serve more than 1.5 million individual customers with integrity and dedication. For more than 35 years, our commitment to extraordinary administrative service has allowed our clients to hone their core competencies, grow business, and strengthen their relationships with their customers and members. Our workforce of 200 professionals is headquartered in Cleveland, OH, with offices in Keene, NH and Washington, DC. We're among the largest, privately-held US firms in the markets we serve. Visit us at https://www.SelmanCo.com.
Media Contact:
Angela Arnold
Selman & Company
440.646.9336 ext.232
aarnold@selmanco.com
For veterans jobs in Cleveland, learn more about our employment opportunities here:
Photo Credit: CEO David Selman poses with SelmanCo veterans, from left: Jose Ruiz, Dan Kasnik, David Selman, Jerisha Akers, Gary Sheplavy, Buffy Smith, Jutta Hiley.